A perfect blend of fresh fruit combines with strawberry jam and orange juice to create a deliciously sweet and summery fruit salsa.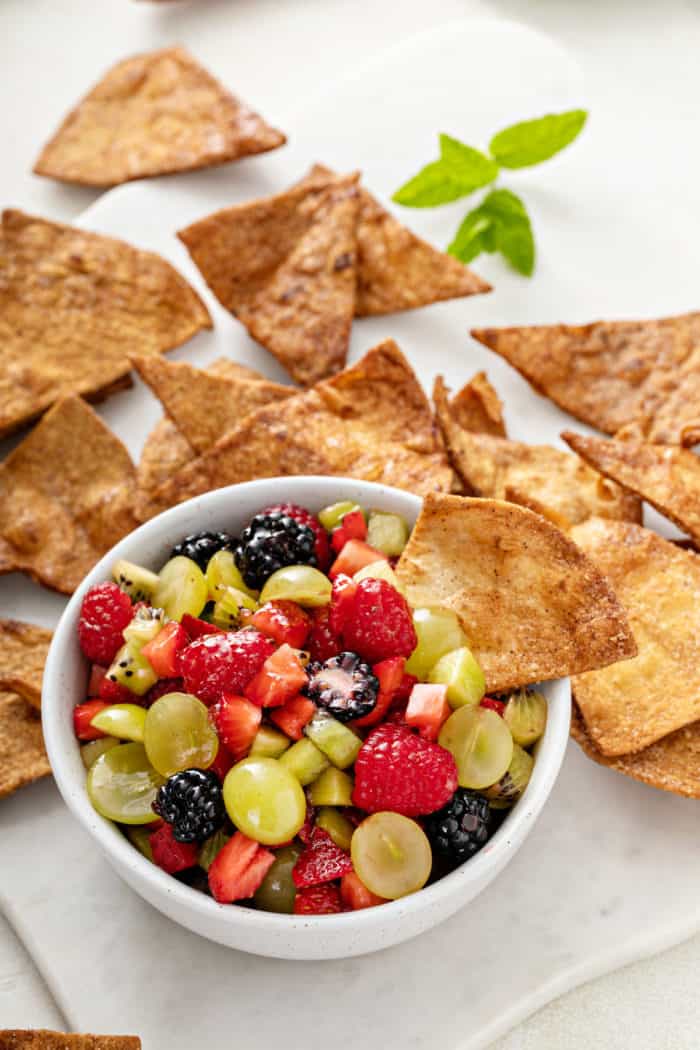 If there's one thing about me that's constant all summer long, it's that I am going to overbuy fruit every single time I pass our local farm stand or even venture into the grocery store. 
From ripe summer berries, peaches, nectarines and grapes, our fruit bowl and fridge are loaded all summer. 
But sometimes we end up with a little more than we eat. 
Although we love using extra fruit in smoothies, yogurt parfaits, and homemade fruit sauces, we also love whipping up a batch of fruit salsa.
It's super sweet, fresh, and loaded with delicious summer flavors. Serve it up with ice cream, yogurt, on shortcake with whipped cream, or with cinnamon tortilla chips.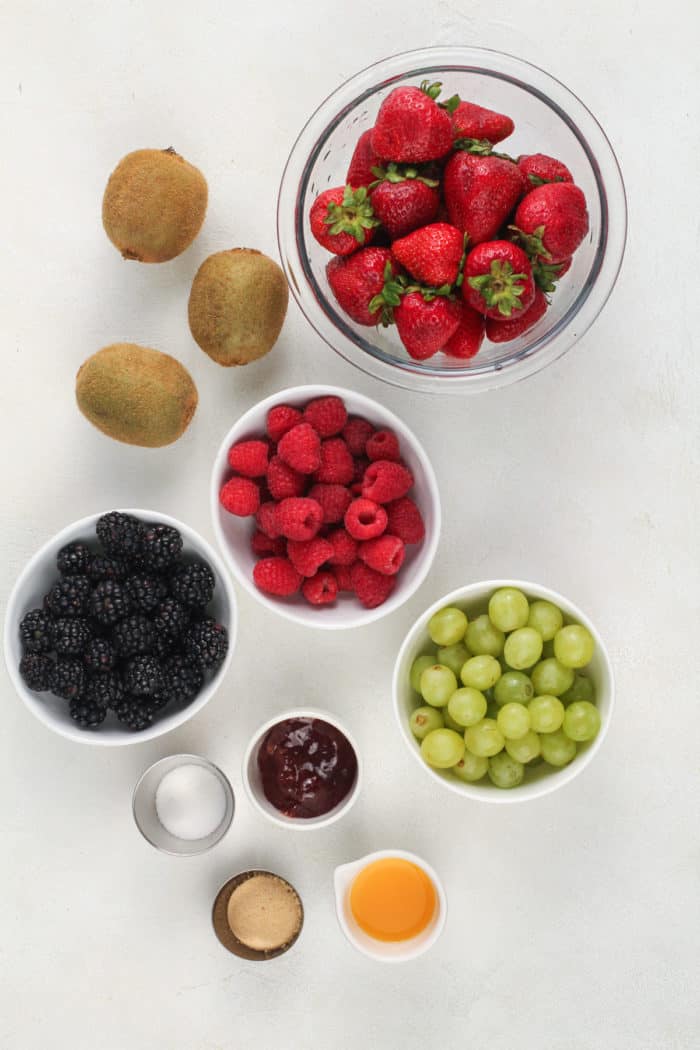 WHAT IS FRUIT SALSA?
Fruit salsa isn't like the savory salsas you're probably familiar with – things like tomatillo salsa, or even a mango salsa that you might serve on fish tacos.
Instead, this is a totally sweet salsa. It's a little bit like a fruit salad, but made for dipping!
My version combines some of my favorite fruits with a strawberry jam and orange juice dressing. It's simple to make and impossible to stop eating!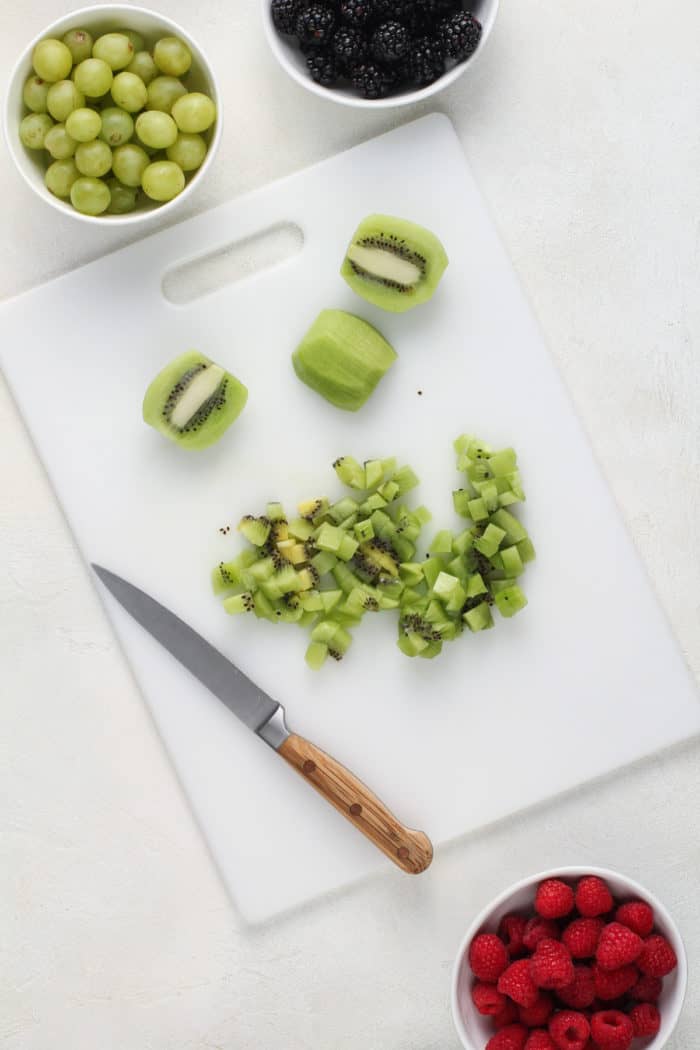 How to serve this sweet salsa
In my opinion, the very best thing to serve with fruit salsa is cinnamon tortilla chips. I have also served this salsa with cinnamon-sugar pita chips or cinnamon graham crackers!
As for when to eat this sweet salsa?
You could totally put it out as an appetizer alongside your buffalo chicken dip and spicy guacamole. 
Or make a table just of dessert dips and set it alongside cream cheese fruit dip and toffee apple dip!
I also think it makes the perfect afternoon snack or movie-watching finger food. Really there's no wrong time to dig into fruit salsa!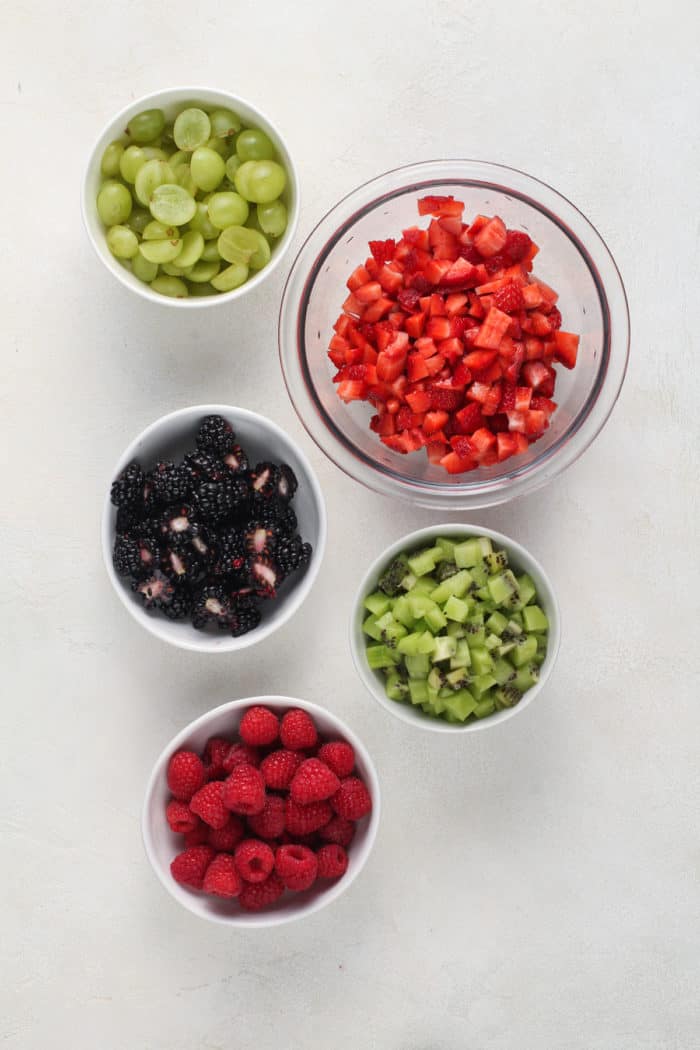 HOW TO MAKE THIS FRUIT SALSA
In addition to being delicious and a great way to highlight your favorite seasonal fruits, fruit salsa is super easy to throw together any time. 
What fruits to use?
Fruit salsa comes together with ease, and with very few additional ingredients to the fresh fruit. The beauty of it is that you can really customize it to your tastes or what's in season.
Personally, I adore a mix of ripe berries, kiwi and grapes, but really, how could you go wrong with any kind of jam-glazed fruits scooped up with cinnamon chips?
Some fruits you might want to try:
Kiwi
Grapes
Fresh berries (strawberries, blueberries, raspberries, blackberries)
Pears
Mango
Pineapple
Apples
Watermelon
Oranges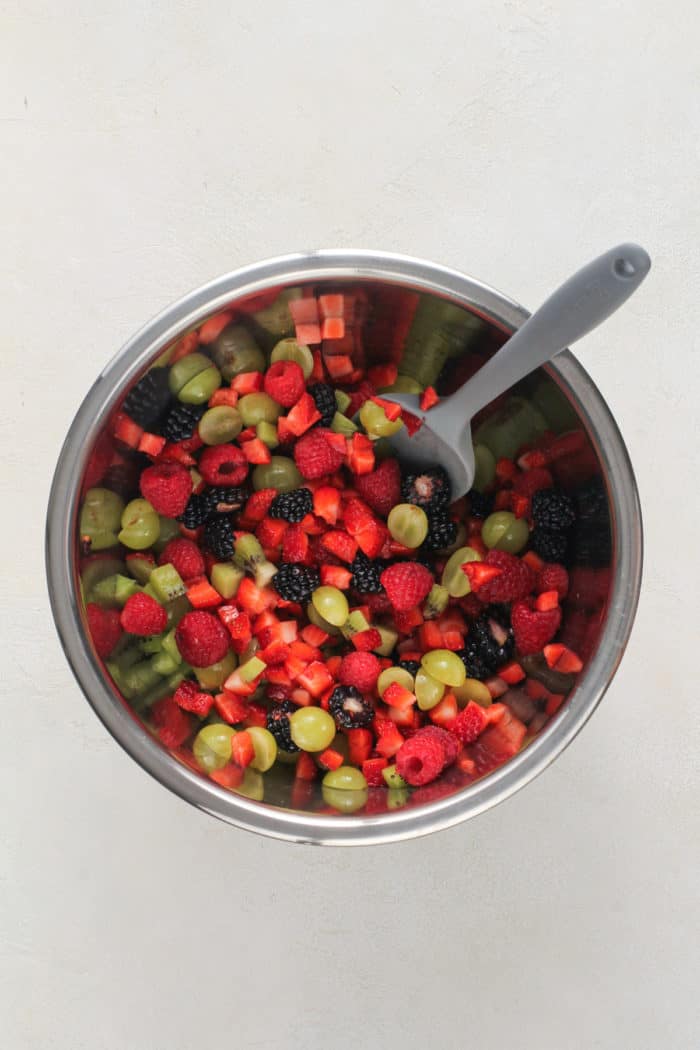 Can you use frozen fruit?
I would recommend making this salsa with fresh fruit instead of frozen fruit. Frozen fruit gets mushy after it has thawed, so you won't get the same texture as you would with fresh fruit.
Look for fruits that are in season to keep this salsa fresh and affordable!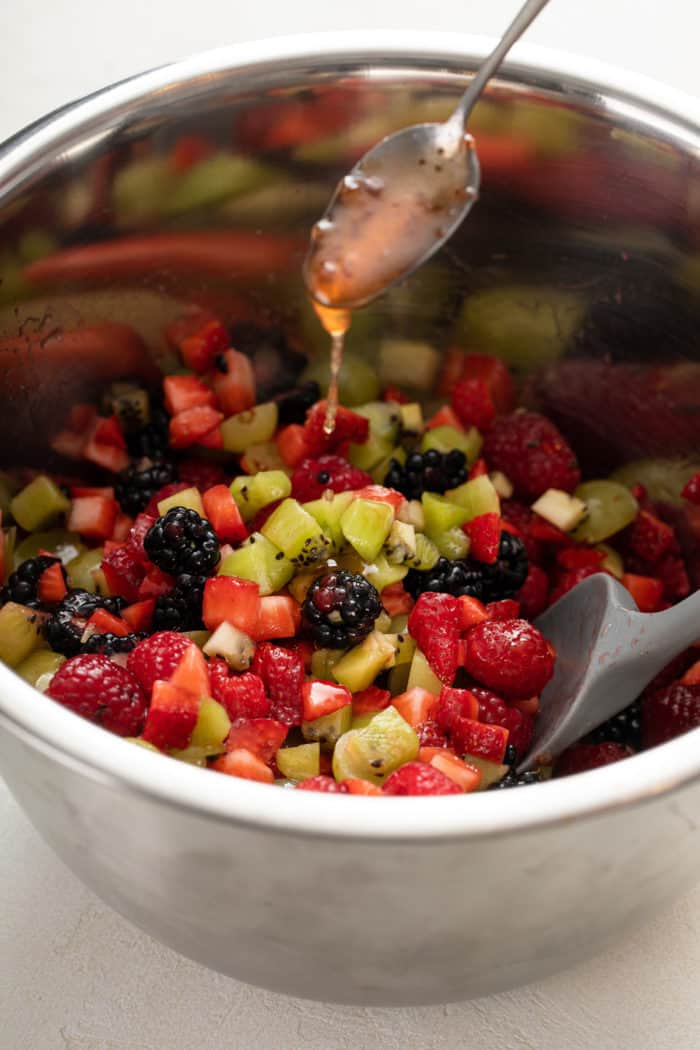 Making this recipe
To make sure your fruit salsa is nice and scoopable, prep all of your fruit so it is about the same size.
I like to leave raspberries or blueberries whole and halve blackberries if they are on the large side.
Grapes also get halved or even quartered, strawberries get diced, and kiwis get peeled and diced. 
Once all of your fruit is prepped, add it to a large bowl and gently stir to combine.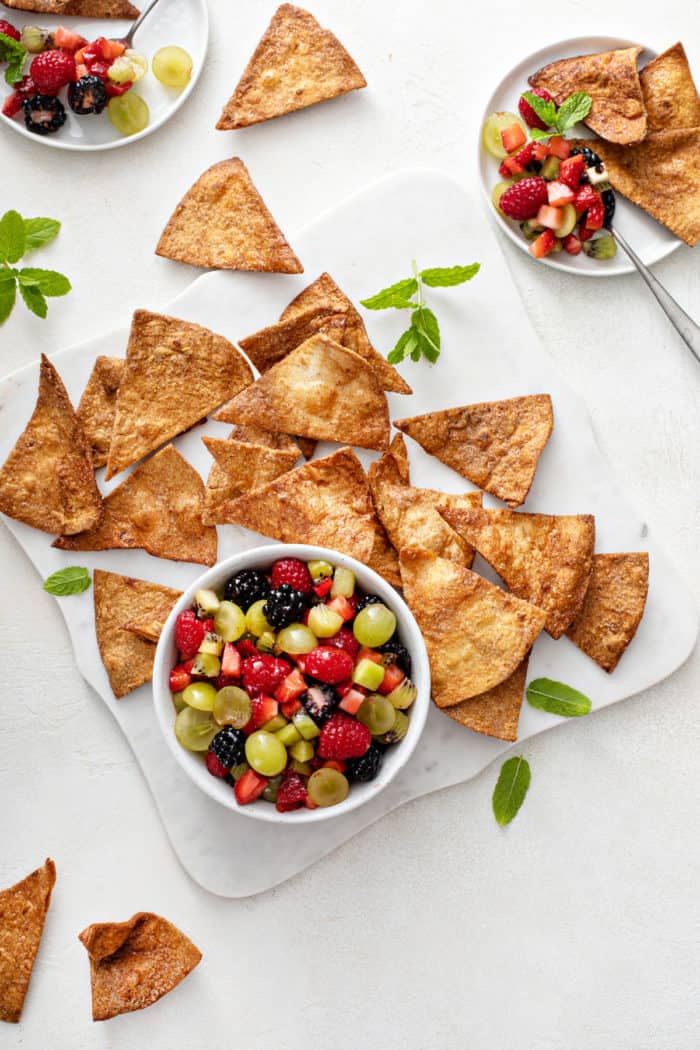 In a small bowl, microwave the strawberry jam for about 15-20 seconds, just until it is warmed through and easy to stir. Add the sugars and the orange juice, then add as much of this dressing to the fruit as you like.
I typically start by adding half and then adding more to taste. If your fruit is super sweet, you may not need as much! 
Cover and let the salsa rest in the refrigerator for 15 minutes before digging in.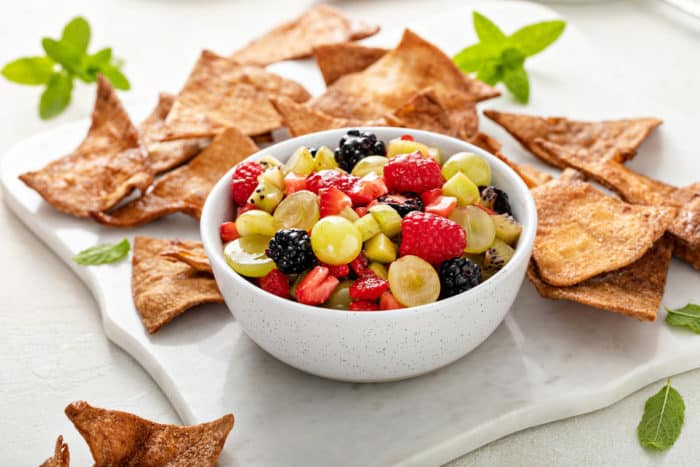 STORAGE
Fruit salsa is best on the day you make it, so I don't recommend making this super far in advance. This is because the longer it sits, the more the fruits break down and the juicier it gets.
If you do need to make it ahead of time for a party, I would make it in the morning and let it sit in the refrigerator until it's time to serve it.
That said, leftovers will still taste great the next day! The salsa just might not look as pretty and some of the fruits might have broken down some (especially the berries).
I do not recommend freezing fruit salsa.
Once you've made fruit salsa once, you'll be looking for opportunities to make it again and again!